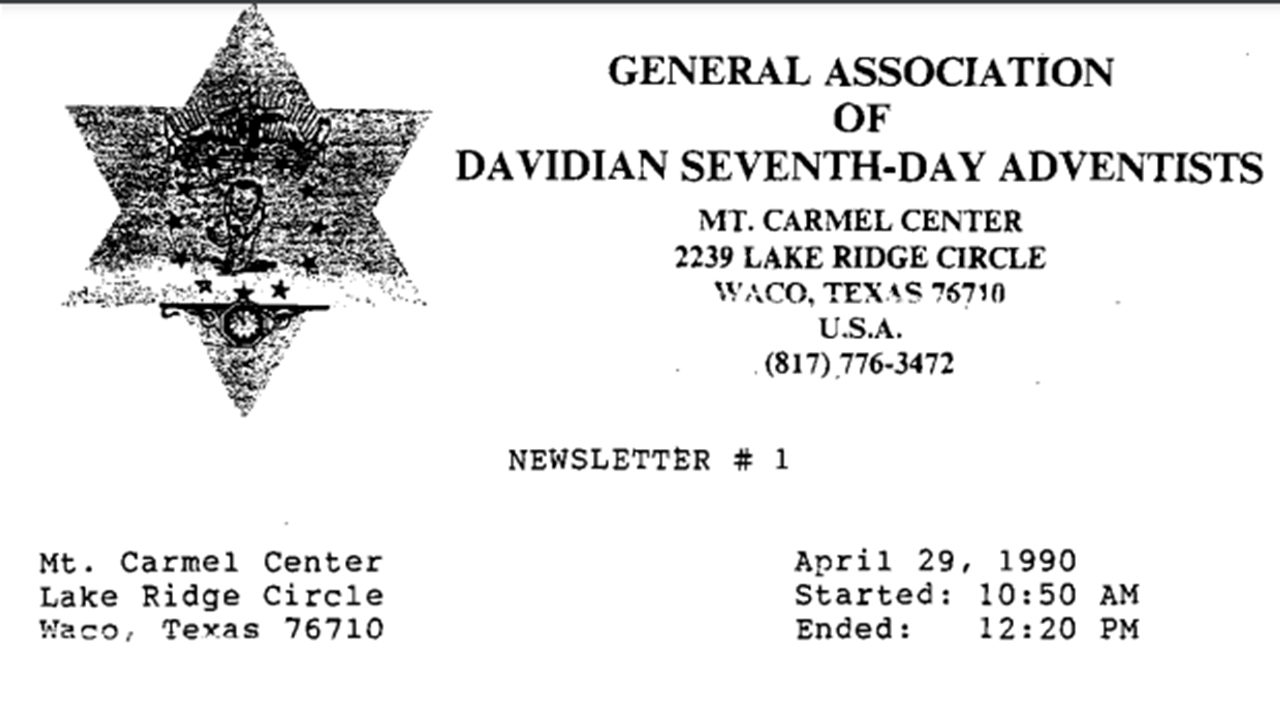 29 Apr

1990 — Pioneers' Newsletter No. 1
GENERAL ASSOCIATION
OF
DAVIDIAN SEVENTH-DAY ADVENTISTS
MT. CARMEL CENTER
2239 LAKE RIDGE CIRCLE
WACO, TEXAS 76710
U.S.A.
(8I7) 776-3472
NEWSLETTER # 1
Mt. Carmel Center                                                                   April 29, 1990
Lake Ridge Circle                                                                     Started: 10:50 AM
Waco, Texas 76710                                                                 Ended: 12:20 PM
Members Present:
Bro. C. Huggins ( acting chairman )
Sis. M. Nosworthy ( acting secretary
Sis. J. Huggins
Sis. A. Blount
Bro. N. Nosworthy
The meeting was started with an opening prayer by the members present. It was ended at the same manner at the time stated above. The following were presented and discussed.
ITEM # 1 NEED FOR REORGANIZATION OF THE COUNCIL
Reasons were discussed as to why we should have re-organization.
It was moved, seconded and voted upon that the following members who are at present are non-supporter both financial and spiritual, be contacted through this letter, as to their stand towards the organization and that a reply be made two weeks after receipt if this newsletter.
The following members are as follows:
Bro. and Sis. B. Mcleans
Bro. and Sis. N. Peniston
Bro. P. Nosworthy
Concerned members please send us your reply in two weeks.1TG 5:20 Tells us "There is a certain element whom even God himself cannot convince that He has taken the reins in His own hands. They never take orders from any but themselves.
GENERAL ASSOCIATION
OF
DAVIDIAN SEVENTH-DAY ADVENTISTS
MT. CARMEL CENTER
2239 LAKE RIDGE CIRCLE
WACO, TEXAS 76710
U.S.A.
(817) 776-3472
Such independent ones will continue to question and criticize everything in which they themselves have no part. So regardless of their profession, of what they think or say, they are not God's people. His real people, He declares, are able to take orders even from women and children. God's people take orders from anyone whom God appoints because they walk in the light of the Lord, not in the sparks of men. He plainly states that those who now rule over them, are causing His people to err, and are destroying the way of their right path!"
C. election of the new council members will be decided on as soon as above members respond to these newsletter.
D. It was also voted that officers should be residing at the headquarters or its vicinity to be able to do the work that they are appointed.
ITEM # 2 BRO. HAWTHORNE'S DESIRE TO COME TO THE ASSOCIATION (WACO, TEXAS )
It was agreed and voted upon that we should know his main reason for wanting to come to the headquarters; and it was decided in the past (New York meetings ) that whoever come must have a permission from active members to come here.
ITEM # 3 DOCUMENTS AND RECORDS TO BE TURNED OVER TO THE HEADQUARTERS
It was agreed and voted upon that the Mcleans be contacted by letter or telephone by Sis. Blount to send to Mt. Carmel the following:
Symbolic codes ( those that was supposed to be re-typed )
Records of the previous meetings.
ITEM # REPRESENTATION IN THE COMING SESSION 1990 IN MOUNTAIN DALE, NEW YORK.
I was voted upon that we should send a representative to the coming session in New York.
Purpose: To deliver the message that God's headquarters had been established as per ordained since 1988 and that this is the last headquarters before the kingdom is established. This has been God headquarters since 1935 and still is the headquarters to the present. Representative will go 1 sabbath during the session between the last week of July to second sabbath in August, 1990. To leave from Waco and to return on Sunday as God permits. The following names were nominated to be representative to Mountain dale:
a. Bro. N. Nosworthy
b. Sis. A. Blount
It was voted upon by the members present that Bro. N. Nosworthy be our representative for this session.
ITEM # 5 PURCHASE OF PRESENT HEADQUARTERS
The treasurer Sis. Blount had requested the Federals ( present mortgage holder ) to carry the associations mortgage for another year, due to the fact that we cannot get another mortgage at this time. Present mortgage contract expires on September 1, 1990.The treasurer is waiting for response from mortgage holder. Financial report by the treasurer had been requested in the meeting to be typed up and copies given to all active members– first and second tithe payers.
Let us not forget ITG 16:31 "Countless are the wonders of God's mighty power all through the ages. All these deliverances, and many others were absolutely impossible with men, but very much possible with God. These mighty miracles bring us face to face with the fact that God is in the business of making "possibles" out of discordant "impossibles." Therefore, "let your hands be strong, ye that hear in these days these words" of the Lord.
End of newsletter # 1
file/mbn