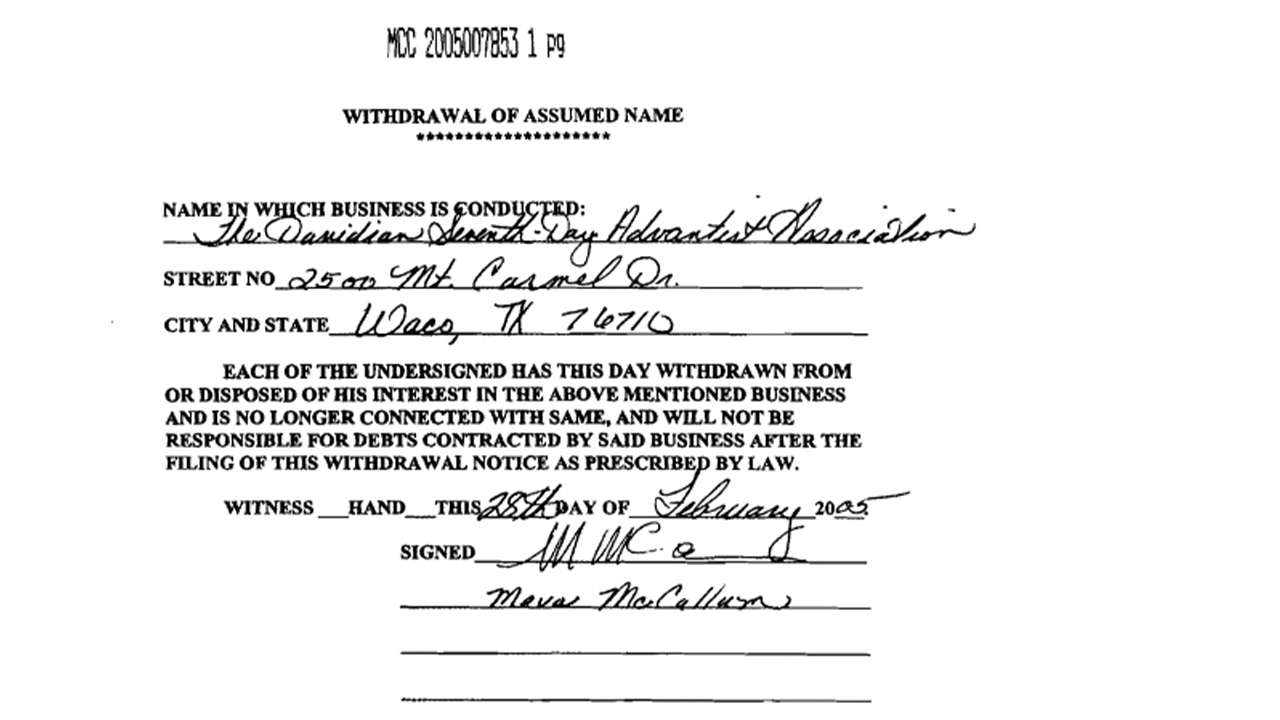 28 Feb

2005 — Withdrawal Of Assumed Name by Meva McCallum
WITHDRAWAL OF ASSUMED NAME
********************
NAME IN WHICH BUSINESS IS OR WILL BE CONDUCTED:
The Davidian Seventh-Day Adventists Association
BUSINESS ADDDRESS   –2500 Mt Carmel Dr
CITY AND STATE: Waco   TX  76710
EACH OF THE UNDERSIGNED HAS THIS DAY WITHDRAWN FROM OR DISPOSED OF HIS INTEREST IN THE ABOVE MENTIONED BUSINESS AND IS NO LONGER CONNECTED WITH SAME,AND WILL NOT BE RESPONSIBLE FOR DEBTS CONTRACTED BY SAID BUSINESS AFTER THE FILING OF THIS WITHDRAWAL NOTICE AS PRESCRIBED BY LAW.
WITNESS HAND THIS 28th DAY OF February 2005
SIGNED _________
ORIGINAL ASSUMED NAME
FILE NO 11-3-04
DATE FILED 2004043712
THE STATE Of TEXAS
COUNTYOF MCLENNAN
BEFORE ME THE UNDERSIGNED AUTHoR ITY,ON THIS DAY PERSONALLY  APPEARED MEVA MCCALLUM KNOWN TO ME TO BE THE PERSON __WHOSE NAMES__ IS/ ARE SUBSCRIBED TO THE  FOREGOING INSTRUMENT AND ACKNOWLEDGED TO ME THAT _HE__ARE THE OWNERS(S) OF THE ABOVE NAMED BUSINESS AND THAT  _HE_ ARE SIGNED THE SAME FOR PURPOSES AND CONSIDERATIONS THEREIN EXPRESSED.
GIVEN UNDER MY HAND AND SEAL OF OFFICE, ON_February  28, 2005.
J.A ANDY HARWELL, COUNTY CLERK
MCLENNAN COUNTY,TEXAS
BY___________DEPUTY