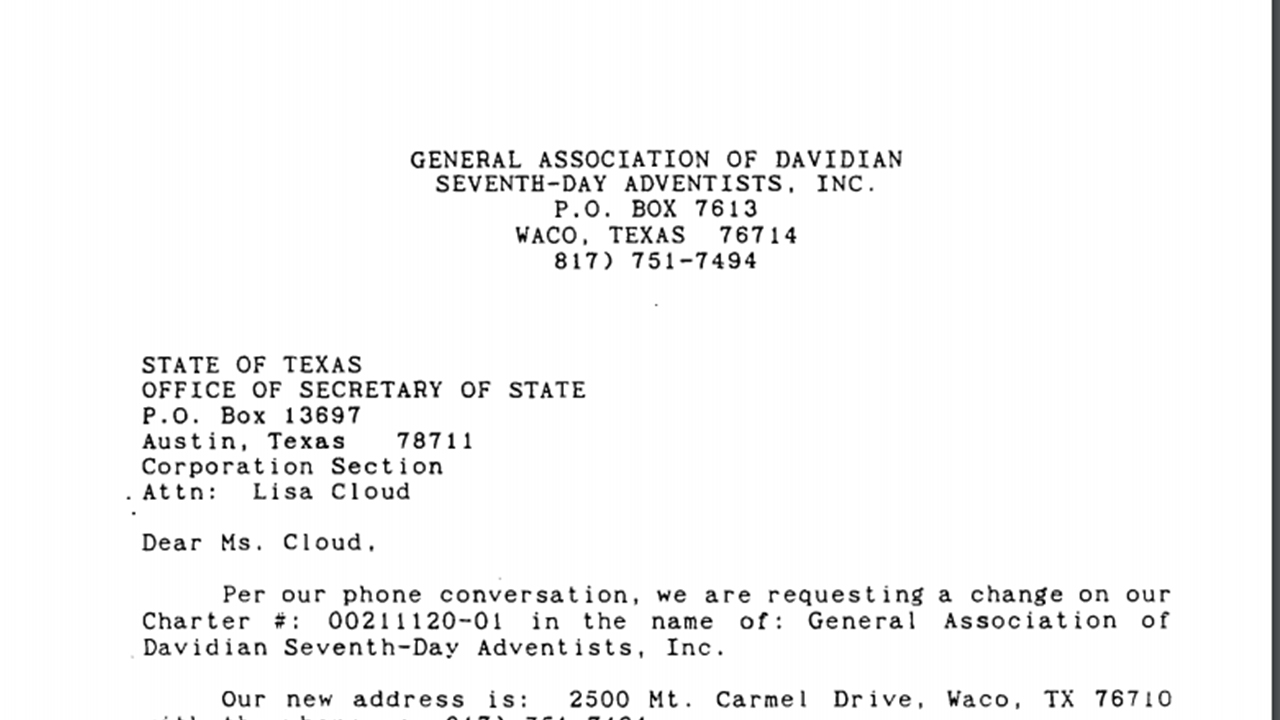 31 Mar

1991 — GADSDA Inc. Texas Change of Charter
GENERAL ASSOCIATION OF DAVIDIAN
SEVENTH-DAY ADVENTISTS. INC.
P.O. BOX 7613
WACO, TEXAS 76714
(817) 751-7494
STATE OF TEXAS
OFFICE OF SECRETARY OF STATE
P.O. Box 13697
 Austin. Texas 78711
 Corporation Section
 Attn: Lisa Cloud
Dear Ms. Cloud.
Per our phone conversation. we are requesting a change on our Charter #: 00211120-01 in the name of: General Association of Davidian Seventh-Day Adventists, Inc.
Our new address is: 2500 Mt. Carmel Drive, Waco, TX 76710 with the phone as: 817) 751-7494.
Our mailing address is: P.O. Box 7613, Waco, TX 76714.
We would also like to update the officers to reflect that there is NO President. That position in the Association is referred to as Chairman. Please make changes as follows:
Chairman –  Norman Archer – 2500 Mt. CarmeI Drive. Waco. TX 76710
Secretary – Rebecca Artherton – 2239 Lake Ridge Circle, Waco, TX 76710
Treasurer – Meva McCallum – 2239 Lake Ridge Circle, Waco. TX 76710
Enclosed is a check for S25.00 for the filing fee which you spoke of sending. Our date of adoption is: 2/24/65 and was reactivated on 12/16/89.
If there are any problems. please feel free to contact me for the information.
Sincerely.
Rebecca Artherton
Secretary for the
Executlve Council