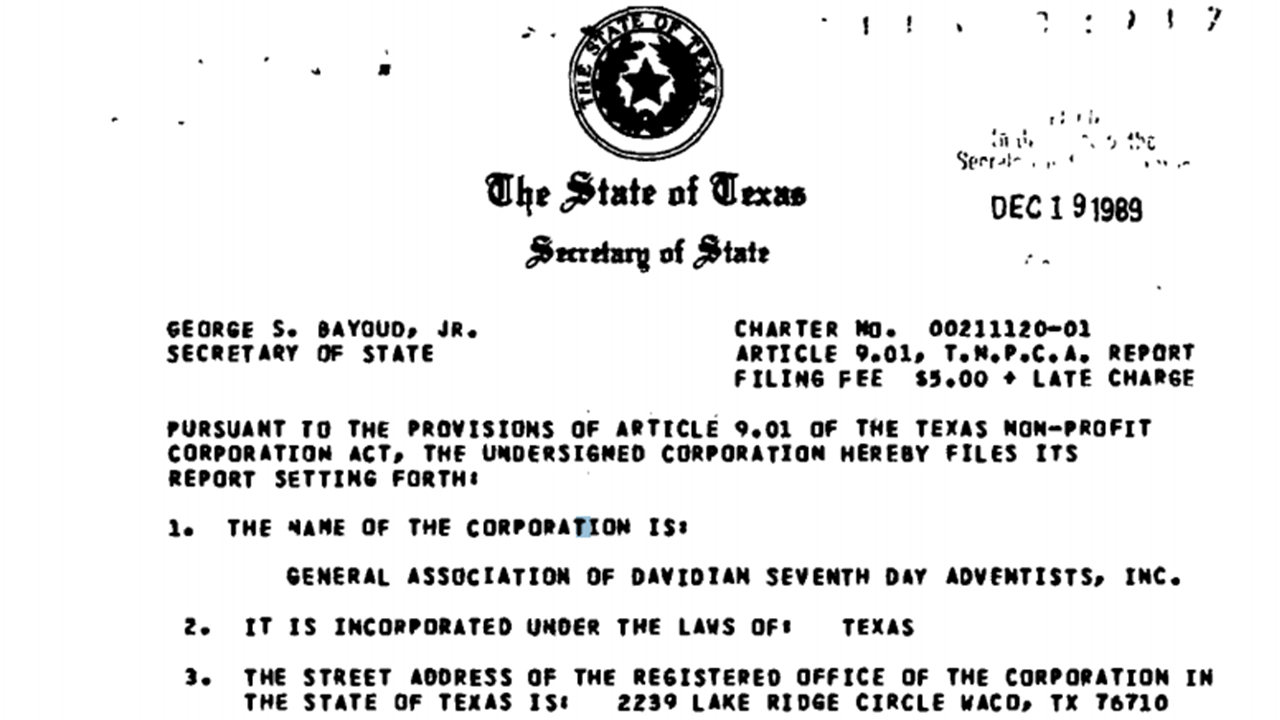 26 Déc

1989 — GADSDA Inc., Texas: List of officers
The State of Texas
State Secretary of State
GEORGE S BAYOUD, JR.                                                                                                CHARTER NO. 00211120-01
SECRETARY OF STATE                                                                                                   ARTICLE 9.01, T.N.P.C.A. REPORT
FILING FEE $5.00 + LATE CHARGE
PURSUANT TO THE PROVISIONS OF ARTICLE 9.01 OF THE TEXAS NON-PROFIT CORPORATION ACT, THE UNDERSIGNED CORPORATION HEREBY FILES ITS REPORT SETTING FORTH:
THE NAME OF THE CORPORATION IS:
GENERAL ASSOCIATION OF DAVIDIAN SEVENTH DAY ADVENTISTS, INC.
IT IS INCORPORATED UNDER THE LAWS OF' TEXAS
THE STREET ADDRESS OF THE REGISTERED OFFICE OF THE CORPORATION IN THE STATE OF TEXAS IS: 2239 LAKE RIDGE CIRCLE WACO, TX 76710.
ITS REGISTERED AGENT AT SUCH ADDRESS IS ALETHIA BLOUNT
IF A FOREIGN CORPORATION, THE STREET ADDRESS OF ITS PRINCIPAL OFFICE IN THE STATE DR COUNTRY UNDER THE LAWS OF WHICH IT IS INCORPORATED IS.
THE NAMES AND RESPECTIVE ADDRESSES OF ITS DIRECTORS FOR TRUSTEES, ETC.) AND OFFICERS ARE:
NAME                                                   OFFICE                                                                                                 ADDRESS
CARL A. HUGGINS                           PRESIDENT                                                          23 TOWANDA ST.DORCHESTER
KATHERINE PENISTON                   SECRETARY                                                         23 TOWANDA ST.DORCHESTER
ALETHIA C.BLOUNT                         TREASURER                                        2239 LAKE RIDGE DR.WACO, TX.76710
THE FOREGOING INFORMATION IS GIVEN AS OF THE DATE OF THE EXECUTION OF THIS REPORT:
DATED DECEMBER 26 1989                           GENERAL ASSOC. OF DAVIDIAN S.D.A
NAME OF CORPORATION
BY ___________________________________
ITS____________________________________
(AUTHORIZED OFFICER)
NOTE: ALL ITEMS MUST BE COMPLETED MAKE CHANGES TO ITEMS 3 AND 4 AS NECESSARY.RETURN TO SECRETARY  OF STATE,CORPORATIONS SECTION, P.O BOX 13697, AUSTIN, TEXAS 78711-3697 WITH $ 5.00 FEE PLUS ANY LATE CHARGES.