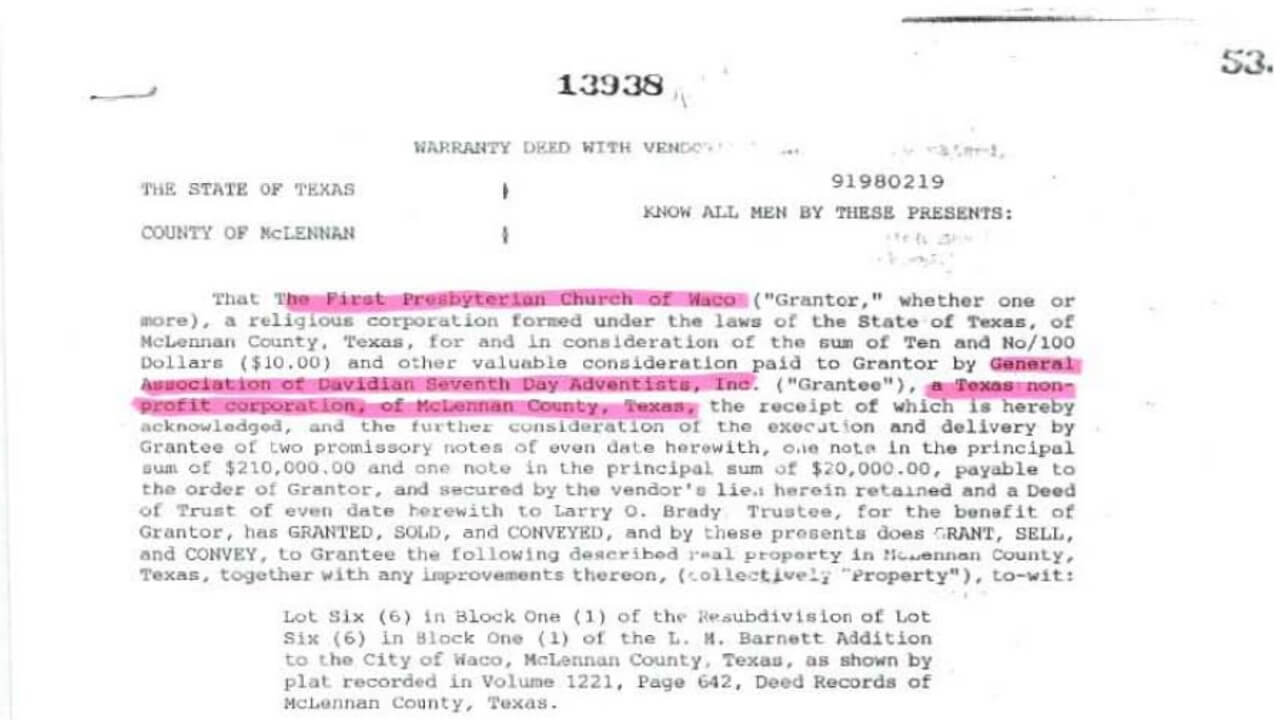 19 Juin

1991 — Deed from the Presbyterians to GADSDA, Inc.

53
13938
THE STATE OF TEXAS                                                                                                                                                                                                              91980219
COUNTY OF McLENNAN                                                                                                                                                  KNOW ALL MEN BY THESE PRESENTS:
That the first Presbyterian Church of Waco ("Grantor" whether one or more), a religious corporation formed under the laws of the State of Texas, of McLennan County, Texas, for and in consideration of the sum of ten and No/100 Dollars ($10.00) and other valuable consideration paid to Grantor by General Association of Davidian Seventh Day Adventists, Inc. ("Grantee"), a Texas non-profit corporation, of McLennan County, Texas, the receipt of which is hereby acknowledged, and the further consideration of the execution and delivery by grantee of two promissory notes of even date herewith, one note in the principal sum of $210,000.00 and one note in the principal sum of $20,000.00 payable to the order of grantor, and secured by the vendor's lien herein retained and a Deed of trust of even date herewith to Larry O. Brady Trustee, for the benefit of Grantor, has GRANTED, SOLD, and CONVEYED, and by these presents does GRANT, SELL, and CONVEY, to grantee the following described real property in McLennan County, Texas, together with any improvements thereon, (collectively property"), to-wit:
Lot Six (6) in Block One (1) of the Subdivision of Lot Six (6) in Block One (1) of the L. M. Barnett Addition to the City of Waco, McLennan County, Texas, as shown by plat recorded in Volume 1221, page 642, Deed Records of McLennan County, Texas.
This conveyance is made and accepted subject to all restrictions, covenants, mineral or royalty conveyances or reservations, and easements, if any, relating to the property, but only to the extent that they are still in force and effect and are visible, apparent, or shown of record in the hereinabove mentioned County and State, and to all zoning laws, regulations, and ordinances of municipal or other governmental authorities, if any, relating to the property.
To have and to hold the Property, together with all and singular the rights and appurtenances thereto in any wise belonging, unto grantee and grantee's successors or assigns forever; and Grantor does hereby bind the Grantor and Grantor's successors to warrant and forever defend all and singular the Property unto Grantee and Grantee's successors and assigns against every person whomsoever lawfully claiming or to claim the same or any part thereto.
But it is expressly agreed that the vendor's lien and superior title in and to the property are retained against the Property until all indebtedness described above is fully paid according to the terms thereof, when this deed shall become absolute.
So long as any amounts remain unpaid on either the $20,000 promissory note or the $210,000 promissory note, then the following restrictions shall apply and shall be deemed to be covenants as well as restrictions running with the land and shall be enforceable by grantor at law and equity, by injunction and all other legal and equitable remedies:
(a) The property shall be used only for church purposes.
(b) The Property shall not be used for any residential purpose whatsoever.
(c) No structure of a temporary character, trailer, tent, shack, barn, shed, storage building or other out-building shall be placed or used on any of the Property at any time as a residence or for storage or for any other purpose either temporarily or permanently.
(d) No vehicles, boats, campers, trucks or trailers, skate board ramps or other unsightly vehicles or objects shall be stored or maintained on the Property.
(e) No part of the property shall be used for a business or commercial purposes or for carrying on any trade or profession.
\1019\131
534
(f) No animals, livestock or poultry of any kind shall be raised, bred or kept on the Property.
(g) No noxious or offensive activities shall be carried on upon the Property, nor shall anything be done thereon which may be or become an annoyance or nuisance to the neighborhood.
The foregoing notwithstanding, Grantor shall allow Property to have a caretaker with spouse, and one child, and allow Grantee to have printing equipment installed and operate said printing equipment for church purposes only.
Such restrictions shall be released and terminated at such time as the aforesaid promissory notes are paid in full and all liens securing said promissory notes are released by the holder thereof by instrument filed in the real property records of the County Clerk of McLennan County, Texas.
When the context requires, singular words include the plural.
DATED JUNE 18, 1991.
THE FIRST PRESBYTERIAN CHURCH OF WACO
BY: [Signed]
Diane Henderson
Chairman of Board of Trustees
Mailing address of each grantee:
2239 Lake Ridge Circle
Waco, Texas 76710
STATE OF TEXAS
COUNTY OF McLENNAN
This instrument was acknowledged before me of the 18 day of June, 1991, by Diana Henderson, Chairman of Board of trustees of The First Presbyterian Church of Waco on behalf of The First Presbyterian Church of Waco.
[Signed]
Notary Public in and for
The State of Texas
                                                                                                                                 ______________
[SEAL]                                                                                                                  Printed Name of Notary
My Commission Expires _____
AFTER RECORDING RETURN TO:
Mr. John …, Jr,
Shawby, Lovelace & Mayfield, P.C.
500 N. Valley Mills Drive, Suite 210
Waco, Texas 76710.
\1019\131
Filed for record on the 19 day of JUNE A.D. 1991 at 11:00 o'clock A.M
Duly Recorded this the 19 day of JUNE A.D 1991 at 2:00 o'clock P.M
FRANK DENNY, County Clerk
McLennan County, Texas
By [Signed: Martinez] Deputy.
FRANK DENNY, County Clerk
McLennan County, Texas
By [Signed] Deputy